By Matthew Santamaria (msantamaria@hdsa.org)
NOTE: The following story discusses the topic of suicide. If you are feeling suicidal or have suicidal thoughts, visit the National Suicide Prevention Lifeline or call 1-800-273-8255.
When Delaware resident Amy Aungst was in middle school, she and her sister went to her grandmother's house. Her Uncle Steve was also there. On that same day, in her backyard, Steve attempted to take his own life.
"I remember him being taken away in the ambulance thinking why he would do such a thing," said Amy.
Amy would soon learn that he was diagnosed with Huntington's disease (HD), fatal genetic disorder that causes the progressive breakdown of nerve cells in the brain. It deteriorates a person's physical and mental abilities during their prime working years and has no cure.
According to Amy, Steve struggled with HD for years. He was placed in an assisted living facility for a few years, and then transitioned to a long-term care facility by the time Amy was in high school. Steve later passed away from a heart attack.
"It was then I realized the intensity of what HD did to people," Amy explains. "I started to do a bunch of research to know what could happen to me and the rest of my family. My mom said that her father died from HD months before I was born. At that time, in 1988, an autopsy needed completed to diagnose a person with HD."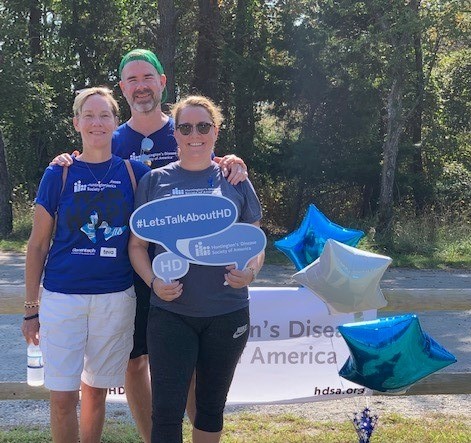 The symptoms of HD are described as having ALS, Parkinson's and Alzheimer's – simultaneously. Personality changes, mood swings, depression, forgetfulness, impaired judgement, unsteady gait, involuntary movements, slurred speech, difficulty in swallowing, and significant weight loss.
As Amy continued her high school education, she started to notice involuntary movements from her Uncle Dave (her mother's other brother). She questioned her parents about the movements, and it turned out that he tested positive as well.
When Amy was in college, her mom wanted to be tested for HD. The decision to get genetically tested is difficult to make. Each year, 5-10% are tested. It is never the right or wrong decision to be tested. There are people that see no benefit in knowing that they will develop the disease while others want to know in order to make informed choices about their future. It can take up to several weeks to receive your results from the genetic testing center.
"She had no symptoms at the time but wanted my sister and me to be able to plan for our futures," said Amy.
Her mother went to be tested at
John Hopkins Medicine
in Baltimore. This is one of the 54 HDSA Centers of Excellence that provide an elite team approach to HD care and research. Professionals have extensive experience working with families affected by HD and work together to provide families the best HD care program.
"It was a long process," Amy explains. "Waiting and waiting. I was sitting in the cafeteria of my college campus and talking to my friend, Bethany. My dad called and said they were done with the appointment. I told my dad that I wanted to know the results then over the phone and I couldn't wait until after I was done with my afternoon classes that day. It was some of the worst news I could ever get."
Her mother tested positive for HD and her children were now at risk. Every child of a parent with HD has a 50/50 chance of inheriting the faulty gene that causes HD.
"I told myself that when I was ready to have a family of my own, I would be tested too," said Amy. "I wanted to know what was in store for me and how to best provide for my future of my family."
Few years later, her Uncle Mark started to become symptomatic after testing positive. However, the only people that knew he tested positive were Amy's parents.
"He wanted to keep it from my Grandma so she would have some hope that not all four of her children would have HD," Amy explains. "However, that didn't happen. Grandma had to realize that all her children were given this awful disease."
In 2012, Amy met her future husband, Nick. On the first date, she was honest with about her family history. He supported her and married in 2015. In that same year, Amy tested positive.
"I spoke with my family doctor who sent me to a local neurologist," said Amy. "I went to the neurologist. They told me it was a simple blood work test, and I would get my results in about six weeks. This was the longest six weeks of my life. I remember being so scared, nervous, and didn't know what to think. I then received an email and asked my husband to open my test results. I wanted these results but couldn't bring myself to open the email. He opened it and just started crying. The first time I ever seen Nick cry. I knew then it wasn't good. I knew that I too was doomed. And I was not going to have my own family this way."
Once the results came in, Amy informed her family. She wanted her mother to know that this was not her fault and to not blame herself. In the last few years, Nick and Amy wanted to learn more about upcoming clinical trials and HD research. Her family also attended the HDSA Convention in Baltimore.
They have also sought their options in family planning. Their options include conceiving naturally as this would be an incredible risk for the child, but genetic testing would assist the family's efforts in determining a positive or negative test result.
Genetic testing can be performed on cells from chorionic villus sampling (CVS) and amniocentesis. If a woman is already pregnant, she can receive testing for the fetus with a CVS at 10-13 weeks. This includes testing on the placenta and the risk of a miscarriage is 1:100. For amniocentesis, beginning in the 15th week of pregnancy, testing can be performed on fetal cells from amniotic fluid. The risk of a miscarriage is 1:500-1:300.
"Nick and I decided that natural children were not for us," said Amy. "As we do not want to pass this along."
Pre-implantation Genetic Diagnosis (PGD) testing can be used with In Vitro Fertilization (IVF) that makes sure any fertilized egg implanted does not have the abnormal gene.
Adoption within the United States would allow the family to have access to the child's history/medical background. There is also the chance of a possible relationship with the child's biological family. However, the negative side is the waiting times may be long and laws/options vary by state.
International Adoption would provide limited access to history/medical information and placement process varies by country of origins. They decided to go through adoption within the United States.
"At one of my visits to the HDSA Center of Excellence, the lady at the front desk gave us this idea," Amy explains. "Foster care to adopt. She called around and got us the number. We started our training. On November 21, 2020, we adopted our two foster sons (Clayton, 2-years-old, and Liam,1-years-old)."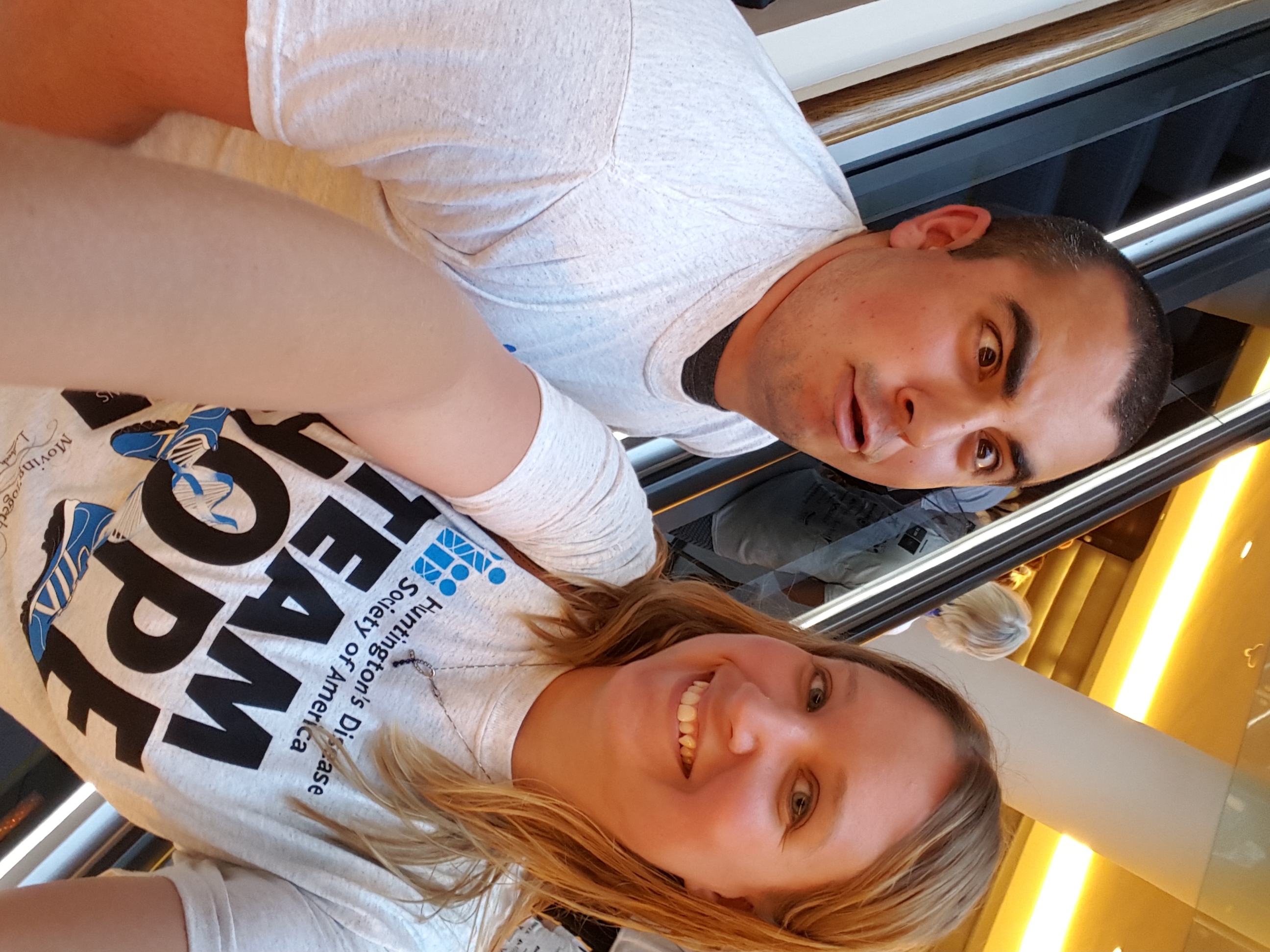 ​Amy has a message for the HD Community:

"I have decided to make the most of it and do everything possible to not let it bring me down.
We all continue with our HD appointments and spread the word."
###
Huntington's disease (HD) is a fatal genetic disorder that causes the progressive breakdown of nerve cells in the brain. It deteriorates a person's physical and mental abilities during their prime working years and has no cure. Every child of a parent with HD has a 50/50 chance of inheriting the faulty gene. Today, there are approximately 41,000 symptomatic Americans and more than 200,000 at-risk of inheriting the disease. The symptoms of HD are described as having ALS, Parkinson's and Alzheimer's – simultaneously.
The Huntington's Disease Society of America is the premier nonprofit organization dedicated to improving the lives of everyone affected by HD. From community services and education to advocacy and research, HDSA is the world's leader in providing help for today and hope for tomorrow for people with HD and their families.
HDSA was founded in 1967 by Marjorie Guthrie, the wife of legendary folk singer Woody Guthrie. Woody died from HD complications when he was only 55 years old, but the Guthrie family legacy lives on at HDSA to this day.
To learn more about Huntington's disease and the work of the Huntington's Disease Society of America, visit www.HDSA.org or call 1(800)345-HDSA.
This is a story featuring a personal experience with Huntington's disease. If you would like to have your story told please contact Matthew Santamaria at msantamaria@hdsa.org