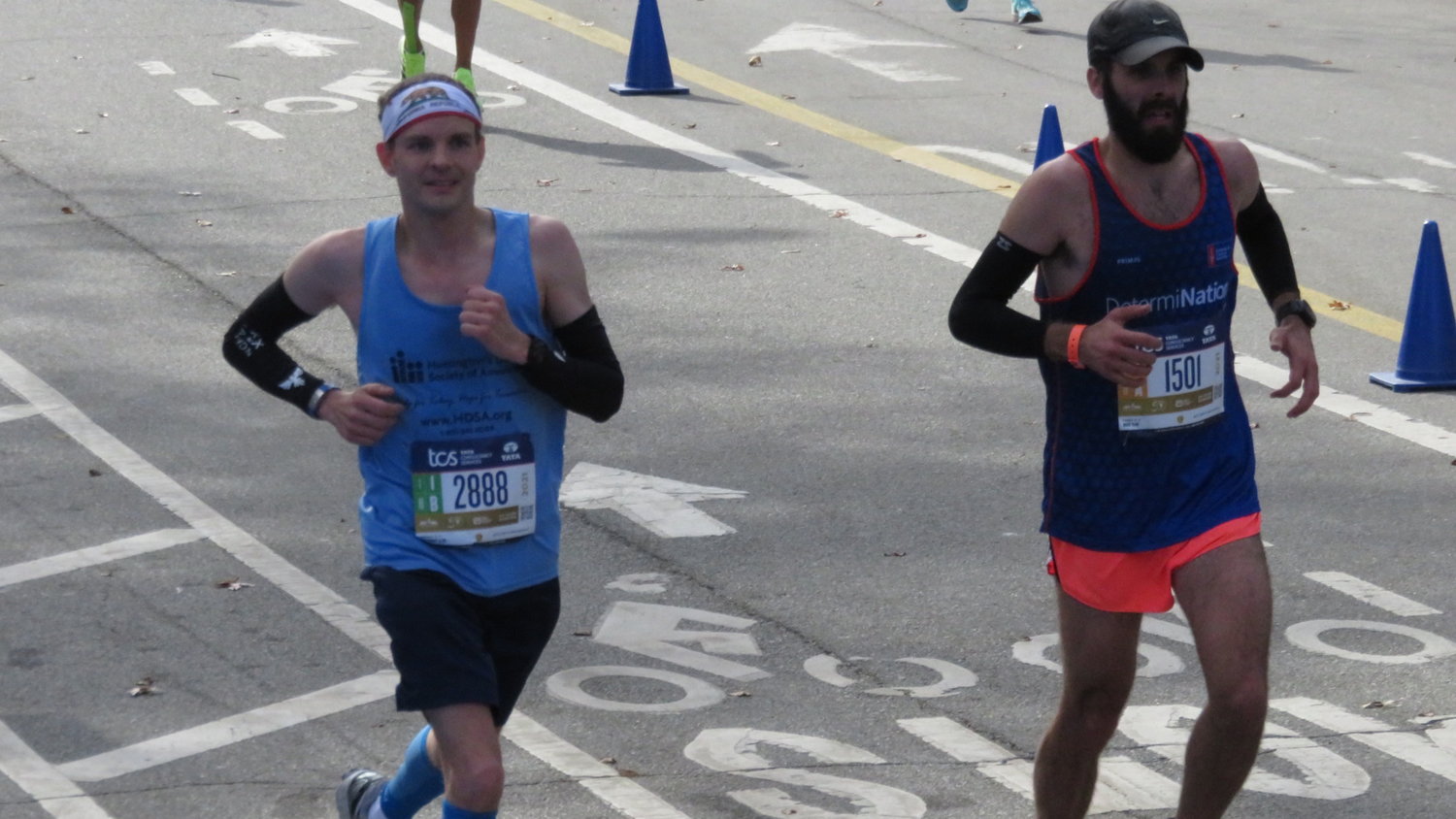 By Mike Smollins
South Side High School alumnus Randell Hansen took another step toward his goal of running a marathon in all 50 states when he took part in the New York City Marathon for the first time on Nov. 7.
Hansen finished the race in 3 hours, 11 minutes and 7 seconds, and now only has to run marathons in Maine and New Mexico to complete his multi-year mission.
"It was exhilarating," Hansen said of the New York City race. "It was the best experience I had next to running in the 2014 Boston Marathon. Starting at the Verrazano Narrows Bridge and just running through Brooklyn, Queens, the Bronx and Manhattan, the crowds were really loud, ringing the cowbells, cheering us on, and just the fact that it was a large in-person race event, the first one I did in a long time, it was just great."
Hansen, 42, lived in Rockville Centre from 1980 to 2002 before moving to Sacramento, Calif. He graduated from South Side High School in 1997, and said that his former classmate, Meghan Lynch, also ran the New York City race.
Hansen said that he wasn't an athlete in high school, but he took up running in 2007 because he enjoys traveling around the country and was looking for a new hobby. He began slowly, competing in 5Ks, then working up to 10Ks and half-marathons before eventually taking on full marathons across the country. In 2009, he completed his first full 26.2-mile marathon along the American River in Sacramento.
Though he has become a better runner over the years, Hansen said it was difficult for him to qualify for the New York City Marathon, which was a major goal of his. "It was a long time coming," he said. "For years I tried to time qualify for it, but I just kept coming up short."
After not being able to qualify with a time, he decided to go the fundraising route, and raised money for the Huntington's Disease Society of America, in honor of his friend Jessica Idenmill, who has the illness. Huntington's is a rare, inherited disease that causes the progressive breakdown of nerve cells in the brain.
Through social media posts and help from friends and family, Hansen surpassed his goal of raising $3,750, and was able to enter the marathon. He said it meant a great deal to him to be able to raise money for the HDSA, which works to raise awareness and fund research for treatments and to help those struggling with the disease maintain their quality of life.
After a nearly two-year hiatus from competing in person due to the coronavirus pandemic, Hansen ran a marathon in Atlantic City last month. He had hoped to finish the New York race in under 3:10, but was still happy with his time considering the long layoff. He runs three days per week in his neighborhood, and also does CrossFit training to keep his form and minimize the risk of injury.
Hansen said he enjoys the training process and the camaraderie among the runners at each event, and that he was relieved to finish New York City. To meet his ultimate goal, he hopes to run marathons in Maine and New Mexico next spring or fall.
Hansen, who works as a civil servant, said he was elated to reach the finish line in Central Park and see his wife, Heather Smith-Hansen, there cheering him on. "It's just great knowing that she was there in the grandstand seats, just there to watch me finish," he said. "When we met afterward, we gave each other big hugs. It's nice having my biggest cheerleader there."
To read original article, click here