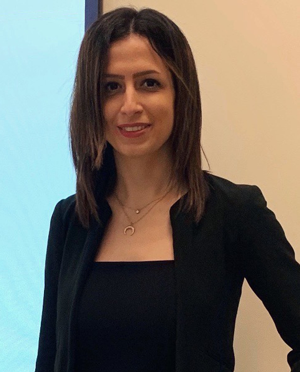 By Kylee Denesha- UMass Medical School Communications
UMass Medical School postdoctoral associate Yasaman Gholamalipour, PhD, was awarded the Huntington's Disease Society of America Berman-Topper Family HD Career Development Fellowship for 2020.
The HDSA fellowship provides $80,000 of funding per year for three years to scientists and clinicians who intend to make Huntington's disease a part of their long-term career plan.
"I want to use my background in both chemistry and biology to help develop a drug focusing on therapeutic application," Dr. Gholamalipour said. "When I began my time at UMMS, my research migrated to a focus in HD, and I thought this was a great opportunity to apply my skills. Studying this concept excites me more as time passes."
Huntington's disease is a fatal genetic disorder that causes the progressive breakdown of nerve cells in the brain, leading to loss of cognition, movement disorder and behavioral changes. All humans have the huntingtin gene in their DNA, which contains six to 36 CAG trinucleotide repeats; patients with HD have an expanded number of CAG repeats. Under the guidance of Neil Aronin, MD, the Higgins Family Professor in Neuroscience and professor of medicine, and Michael Brodsky, PhD, assistant professor of molecular, cell & cancer biology, Dr. Gholamalipour's project at UMMS will attempt to reverse the CAG repeat expansion in the mutant huntingtin gene back to the normal range, which is fewer than 36 CAG repeats.
"We are basically trying to repair this mutant gene by using CRISPR/Cas9 genome-editing tool, in an effort to bring it back to a normal gene. We are attempting to reduce the number of CAG repeats and target the toxic elements," she said. "Hopefully this research can lead to new approaches for other genetic diseases such as ALS and Fragile X syndrome."
Gholamalipour received her bachelor's degree in chemistry in 2012 from Shiraz University in Iran. She came to the United States in 2013, earning her PhD in chemistry from UMass Amherst in 2019, before coming to UMMS as a postdoc.
The HDSA is a nonprofit organization dedicated to improving the lives of everyone impacted by HD.
"Dr. Gholamalipour's application combined an innovative HD research project with a dynamic mentoring and training plan that made her an ideal recipient for this prestigious fellowship. The promise of using genome editing to tackle HD is immense, but before that can become a reality, Yasaman and her collaborators will address fundamental questions of safety and efficacy in preclinical models of the disease," said George Yohrling, PhD, chief scientific and chief mission officer at HDSA.